posted by:
Best Western Plus Plattsburgh
on:
October 17, 2018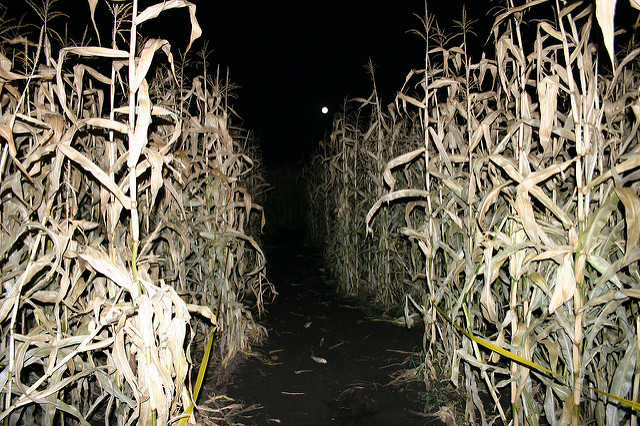 Image via Mack Male on Flickr
It's a spooky and fun time of year where we enjoy the ambiance from carved-pumpkin light, ghoulish costumes and haunted homes. There are lots of great options to enjoy Halloween in Plattsburg. We've outlined a few of our favourites!
Dress Yourself Up
The Spirit of Halloween, located at 60 Smithfield Blvd, is Plattsburg's oldest Halloween store. With costumes (of course), décor and more, this store is your one-stop location for outfitting yourself and your space for spooktacular fun!
Explore the Haunted History Trail
At $10/person, tours of the Hummingbird Home are a bargain. This Queen Anne Victorian Mansion, part of the Haunted History Trail, has seen many renowned families come and go (or has it?). It is said to be home to spirits, including that of Dr. Drown, who set the residence up as a funeral home. Haunted? You be the judge. Book in advance at 518.335.8311
Fun Evening Outing
Every Thursday – Sunday evening, from noon until dusk hit the Tucker Farms Corn Maze. Looking to make the experience more spooky? Flashlight nights are Friday and Saturday nights from dusk until 10 pm. You never know what's waiting around the next corner in the Corn Maze! Saturday, October 28th, take in a special Fright Night celebration, full of ghostly fun!
Carve A Pumpkin
Find your perfect pumpkin at Country Dreams Farm. With a whole patch at your disposal, you're sure to find one entirely suitable for your carving creation. Enjoy a horse-drawn wagon ride while you're there. Located less than 10 minutes from the Best Western Plattsburg, this heritage property is sure to get you in the Halloween spirit.
Enjoy Cinematic Favourites
Whether you love the horror genre or the comedy genre, they've got the movie for you at Cumberland12. Just in time for Halloween, Goosebumps2, starring Jack Black and Wendi McLondon-Covey, is in the theatre now…providing a lighter side of scary.
Looking for a time-tested flick to have you gripping the armrests for safety? Check out The Exorcist, The Shining and, of course, Halloween on select dates through to the end of October.
No matter what your Halloween preference, the Best Western Plattsburg is the perfect launch-pad for Halloween explorations. Splash off the spookiness in the indoor pool, or enjoy only sweet dreams under a freshly double-sheeted duvet. At Best Western Plattsburg it's no tricks…all treats.