posted by:
Best Western Plus Plattsburgh
on:
July 16, 2021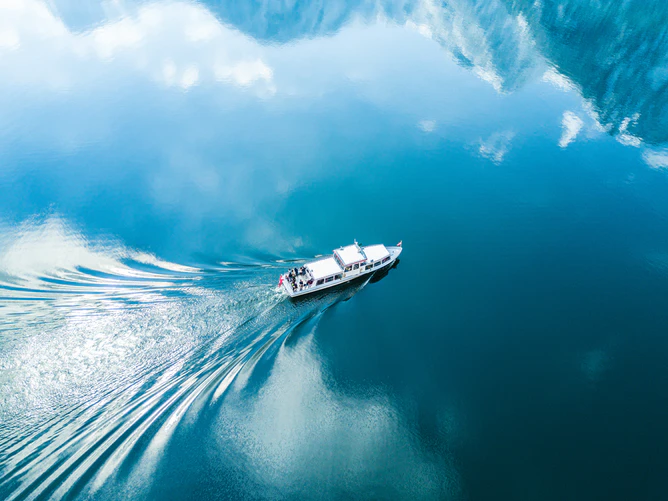 Image via Willian Justen de Vasconcellos
Have you ever cruised along Plattsburgh's Lake Champlain? Now's your chance!
Whether you're a visitor or a local, there's no better way to spend a hot, sunny day in July than on Lake Champlain.
Thankfully, Fort Ticonderoga runs boat cruises throughout the summer months. Their 75-minute boat cruise tours will have you floating along this scenic lake, surrounded by beautiful vistas of Vermont's Green Mountains and New York's Adirondacks. The boat you'll be sitting in is called the Carillon.
Not only does this Lake Champlain boat cruise provide you with a new perspective of the area, but you'll also learn about its history.
An on-board narrator will teach you all about Lake Champlain's maritime history and military heritage, while sonar readings allow you to view underwater shipwrecks and other historic features.
Plus, a selection of soft drinks, beer, wine, water, and snacks are available for purchase on board.
There are four different cruising options available. The first are the daily boat tours, which set sail from Fort Ticonderoga around 10:30 am on most days of the summer. Tickets cost $40 for adults and $25 for children (children under 5 years old are free).
Then there are the Cruises for Groups, private Charters, and Sunset Scenic Boat Cruises. To book a cruise for a group, you must have a group of at least 20 people. Meanwhile, charters are available for any number of people to a maximum of 35. The cost for this is $500 for two hours.
Finally, the Sunset Scenic Boat Cruise on Lake Champlain is our personal favorite option, inviting guests to enjoy a relaxing summer evening aboard the Carillon. You'll hear stories of armed schooners and Prohibition-era rum runners while sitting in this 1920s-style vessel.
The Carillon tour boat operates from a dock on Lake Champlain located at Fort Ticonderoga in Plattsburgh.
In need of a place to stay while visiting Plattsburgh? We'd love for you to book a room at the Best Western Plus Plattsburgh. We are one of the best hotels in the area, providing an unbeatable location not far from Fort Ticonderoga, as well as luxe amenities and affordable prices.