posted by:
Best Western Plus Plattsburgh
on:
February 23, 2021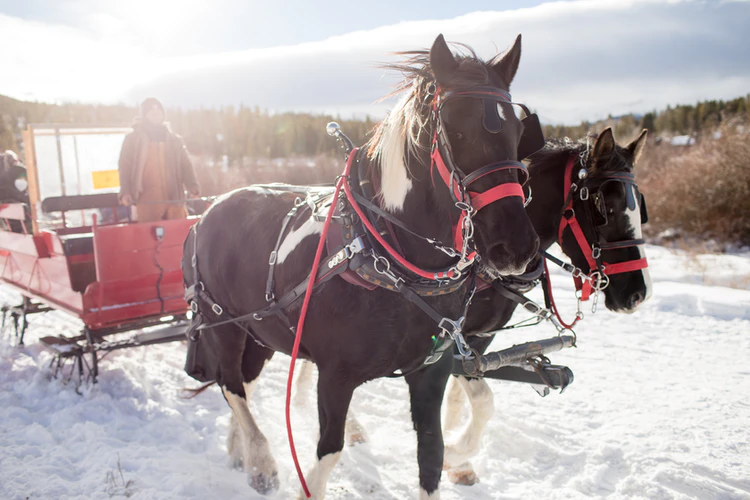 Image via Andrea Stark
Did you know that you can go for a horse-drawn sleigh ride in the snow right here in Plattsburgh? That's right, the city has its very own local farm that will make all your fairytale dreams come true! Keep reading to discover more about where and how you can go for a magical sleigh ride this winter.
First thing's first, the location of these horse-drawn sleigh rides is Country Dream Farms on Pellerin Road, which is less than ten minutes by car from the Best Western Plus Plattsburgh.
Further, the rides that they offer are called Adirondack Sleigh Rides, and they involve sitting in an authentic sleigh that's being pulled by gorgeous Belgian Draft horses.
Each ride will take you through the picturesque Adirondack Mountains (which look even more beautiful covered in snow). Enjoy the crisp mountain area, snow-topped trees, winding woods, and scenic vistas from the comfort of your own personal sleigh. Plus, the ride will culminate in a true "dashing through the snow" moment.
Plenty of blankets are provided to keep warm and you'll have the opportunity to grab some hot cocoa in the farm's very own Adirondack Cabin.
To book your sleigh ride, all you have to do is give the farm a call or email and they'll let you know the dates they have available. Rates start at $15 for children and $40 for adults, with children under the age of 3 going free.
Alternatively, if you prefer to wait out the cold weather indoors, then be sure to plan a visit to Country Dreams Farm in the spring or summer. During these months, the farm has a family-friendly petting zoo and is even available for events, such as weddings.
If you're visiting Plattsburgh this winter, then going on a horse-drawn sleigh ride through the Adirondack Mountains with Country Dream Farms is a must. And if you need a place to stay, the Best Western Plus Plattsburgh is the place to be. We offer comfortable accommodation, affordable rates, and a fantastic location in the heart of the Plattsburgh.